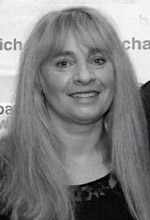 Pam Ribak-Karetsky
Greenwich, Connecticut
Pamkaretsky@gmail.com
From the moment I heard about legacy writing something resonated deep within me to do this work.
I have connected the dots of my life experience up to this point in time and it all makes perfect sense as to why I have been drawn to this field.
My undergraduate degree in political science and psychology is from Emory University and my law degree is from Hofstra School of Law. After practicing law for a number of years I found it too adversarial for me.
I moved on to become a personal fitness instructor because I enjoyed helping people help themselves be the best that they could be. More often than not, I found that I was part personal trainer and part therapist, because I've always had the uncanny ability of understanding what an individual needs at a given moment in time.
I hope to focus my legacy work both with individuals and small groups. I am particularly interested in working with individuals who have a family member with a disability. My very first legacy work was with my aging parents whose "legacy" work helped me better understand how to care for my handicapped sister in the future.