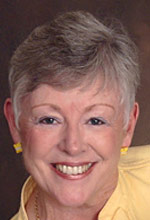 Mary C. Myers, Med, BCC
Portland, Oregon
mcmyers1@comcast.net

Having spent over forty years in ministry, initially in faith formation, then twenty-three years as a Board Certified Chaplain in acute care, hospice and outreach to the marginalized, story has been the constant at the heart of my ministry. All the ways I have shared, empowered, celebrated and lived story have prepared me for legacy work.
I am passionate about legacy writing and creating ethical wills because I have seen the gift it is to writers as well as their loved ones, whether shared in the midst of life or at the end. We are story telling/story catcher people who make sense of our lives and our place in the world through story and through story we are able to share our deeper selves, our souls: the essence of legacy writing.
I seek to create safe space where individuals can explore and discover what is most important in their life and the wisdom, blessings, hope and love they desire to impart to future generations. I seek to provide the opportunity for intentional legacy writing with individuals or in community. I seek to affirm that all lives have meaning and value, that stories are sacred expressions of one's life and are to be cherished as such, and I seek to bless and be blessed in this work.